Pro AV Catalog
Manufacturers
PRODUCT CATEGORIES
Matching Keywords
Model Numbers
205 Commercial Court
Morganville, NJ 07751
United States

Aurora Multimedia Corp.
Aurora Multimedia products incorporate state-of-the-art technologies that surpass typical specifications and features. Our history of innovation – from the introduction of the industry's first non-proprietary, Web-standards-based IP control systems and touch panels, to today's advanced HDBaseT™ and IPBaseT™ IP video distribution solutions – has made us a dominant force in the AV industry.
Model: LXC-1
The LXC-1 is a high performance IP to port expander. Designed for control port expansion, the LXC-1 has a variety of ports including 2-serial, 1 - IR, 2 - relays and 2 - I/O ports.
Featured Product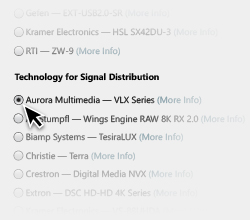 The VLX Series is nominated for the 2018 InAVation Awards for best technology for Signal Distribution.
The InAVation Awards will return to Amsterdam in 2018 on the first evening of the ISE show. The event on February 6 will once again deliver the recognition that the very best of the global AV industry deserves at an enjoyable event offering unrivalled networking opportunities alongside the biggest AV exhibition in the world.
You must be logged in to add more than four items to your comparison list.
Register today!
With a free My-iQ account, you'll be able to keep track of the latest updates and event notifications from your favorite AV manufacturers, manage your own projects and discover new pro-AV products.
Thank you!
Someone will be in touch with you shortly.
Contact Tele-Measurements, Inc.
Tele-Measurements, Inc.
145 Main Avenue
Clifton, NJ 07014
USA
(973)473-8822
www.tele-measurements.com
Request more information from a dealer near you
Request more information from a dealer near you