Pro AV Catalog
Manufacturers
PRODUCT CATEGORIES
Matching Keywords
Model Numbers
205 Commercial Court
Morganville, NJ 07751
United States

Aurora Multimedia Corp.
Aurora Multimedia products incorporate state-of-the-art technologies that surpass typical specifications and features. Our history of innovation – from the introduction of the industry's first non-proprietary, Web-standards-based IP control systems and touch panels, to today's advanced HDBaseT™ and IPBaseT™ IP video distribution solutions – has made us a dominant force in the AV industry.
Model: IP-24PoE+
The IP-24PoE+ is the first ever 24 port PoE+/PoH+ injector to deliver power on a 10G connection. It is compatible with any standard 1G or 10G network switch and will deliver up to 30 watts of power pe
Featured Product
DXM-G3, DXP-62 and IPX-TCW3 introduced at InfoComm – Booth 3059:
DXM third generation Matrix switchers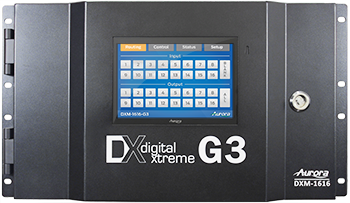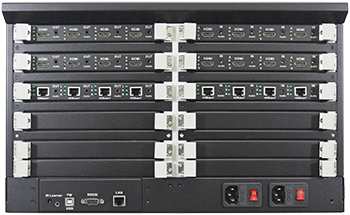 New at InfoComm 2015, DXM third generation Matrix switchers, the DXM-88-G3 8×8 matrix, DXM-1616-G3 16×16, and the DXM-3232-G3 32×32 card-cage matrix systems. Updated to 4K UHD these completely new systems add some major features to the system such as embedding Aurora ' s QXT touch panel control engine as the main interface for the matrix.The front panel will now house the new QXT-700 touch panel offering not only control for the Matrix but full control for the entire system adding IP, RS232, IR, Relays and DIO ports directly to the Matrix. Additional updates include an embedded 1G network switch allowing Ethernet to pass directly over the HDBaseT inputs and outputs for streamlining wiring infrastructure throughout a facility.The DXM-G3 system will also provide PoH (Power over HDBaseT) for all Aurora HDBaseT peripherals (HDBaseT Wall plates and Receivers). The system also adds Audio Breakaway switching giving complete flexibility for multi-zone audio enhancement.
Available in 8×8, 16×16 and 32×32 Configurations
Supports up to 4K UHD Resolutions
Hot-Swappable I/O Cards for Easy Service – Available in HDMI®, HDBaseT, Fiber and HD-SDI
Break-away Audio
RS232 Over HDBaseT Receivers – No PoE Injector Required
Integrated QXT-700 Touch Panel Control
More Information – Click for Price Quote
You must be logged in to add more than four items to your comparison list.
Register today!
With a free My-iQ account, you'll be able to keep track of the latest updates and event notifications from your favorite AV manufacturers, manage your own projects and discover new pro-AV products.
Thank you!
Someone will be in touch with you shortly.
Contact Tele-Measurements, Inc.
Tele-Measurements, Inc.
145 Main Avenue
Clifton, NJ 07014
USA
(973)473-8822
www.tele-measurements.com
Request more information from a dealer near you
Request more information from a dealer near you